Same Day Music is an
authorized Yamaha dealer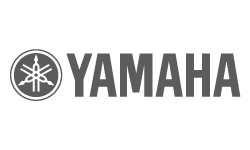 Combining expertise in acoustic drums and digital technology, the Yamaha DTX400 Series drums bring quality to the next level of affordability. You get 167 professional sounds with Accent Articulation in 10 customizable kits, plus drum training functions with Voice Guidance to help you practice. The DTX400K includes beautifully designed pads, KU100 silent kick unit, and large 10-inch cymbals on a steel rack system. It's a great feeling kit that let's you play in comfort without disturbing others. Because it's from Yamaha, you can count on durability and dependability. No other company can match the value of Yamaha's DTX400 series kits.
Configuration
- Snare : 7.5" pad
- Tom : 7.5" pad
- Floor Tom : 7.5" pad
- Bass Drum : KU100 silent kick unit
- Hi-Hat : 10-inch pad
- Hi-Hat controlling unit : Opened/Closed/Foot splash available, and even work as second bass drum.
- Crash Cymbal : 10" pad
Ten Professional Drum Sets in One Compact Electronic Drum Kit
The DTX400K comes equipped with 10 professional drum kits made with world-famous sounds from throughout the history of drums including Yamaha's legendary acoustic series. By utilizing voices from their professional DTX900/700/500 and DTX-MULTI 12, each kit has extremely high sound quality with "Accent Articulation" for dynamic instruments that change sound characteristics according to your hit strength. But that's not all - you can freely mix any of the 169 organic drum sounds to create customized kits that suit your style - even if your style is always changing. Try a heavy metal double bass kit one day then change into a dance kit the next, or keep your ten favorite kits of all time. You get a world of choices inside: 23 snares, 21 kicks, 36 toms, 31 cymbals, and 42 percussion instruments. Getting a DTX400K is really like having ten professional drum sets in one compact electronic drum kit.
Become a Drum Hero with DTX400K
It takes skills to survive in the tribe. The training functions of the DTX400K have been expanded for drummers and enthusiasts of all levels. There are 10 onboard routines including warm ups, groove tools, and drumming games designed with Yamaha's experience in music education to make practice fun and effective. Even if you never played drums before, the intuitive "Groove Tracker" will help you pick up the beat. All drummers can improve their groove with "Rhythm Gate", or take on the rigorous "Fast Blast" challenge if you think you have the chops. There is even a "Voice Guidance" system that "speaks" the results of your sessions to encourage you on your rhythmic journey.
Playability and Feel from a Drum Company
Yamaha has been making drums for over 45 years, so they know that playability is important to all drummers. Using experience gained from developing the popular DTX-PAD they have redesigned the drum pads of the DTX400 series to provide a natural response, solid durability and excellent stick feel. The pads use a rubber surface so your sticks will not slide around on the head, and you can practice single, double and triple stroke techniques for use on a set of acoustic drums. And as an entry-level kit, the dimensions of the DTX400K give you a nice, comfortable area in which to play so you can really rock out. The KU100 Kick unit has superior silent characteristics without sacrificing playability. All of these features from a leading drum company are there to help you become a great drummer.
Upgrade and Expand Your Kit!
As you carve your path into the drummer tribe you can feel confident that your DTX kit can be upgraded and expanded to match your ambition. Upgrade to a three-zone snare pad that allows you to play open and closed rim-shots with the TP70S or a three-zone XP80 DTX-PAD1. You can also add an extra cymbal with the PCY90AT that includes everything you need to play with dual crash cymbals.
Add a real bass drum pedal and KP65 kick pad for true kick drum play, and upgrade to the HH65 hi-hat controller for playing half-open hi-hat voices.
With the USB-MIDI jack you can connect the DTX400 to your computer to control VSTi drum sounds and enjoy recording into DAW software. You can also import songs and beats to use in the training functions with the Musicsoft Downloader3.
Many possibilities await you in the world of DTX.
Training Functions
Anyone can join the tribe and have fun playing drums with the DTX400 series. The following practice menu has everything you need to get started - let's check it out:
Groove Check
As an aid to improving your timing, Groove Check uses the number button lights to show how early or late your hits are so you can see where to adjust your strokes.
Rhythm Gate
Rhythm Gate training allows you to confirm by ear whether or not your timing is accurate. If you do not strike a pad in time, it will not produce any sound. This exercise connects your ears with your hands and feet so that your whole body works like a clock to keep solid time on the drums.
Measure Break
The Measure Break function is a popular training exercise that inserts a break into the click track for a number of measures. By setting the break for the measure(s) you play a fill-in you can check for deviations in your timing when the click returns.
Tempo Up/Down
Use Tempo Up/Down training to see how fast you can go and still maintain accurate timing. As you play along with the metronome, the drum module will automatically increase the tempo if your timing is good and decrease it if you need more practice playing in time.
Change Up
In Change Up training, your aim is to maintain good timing as you play along with up to seven different practice rhythms that change every two measures.
Easy Session
Easy Session training lets you play a drum pattern along with a complete practice song by simply striking any pad(s) in time with the music. As such, it is not unlike a basic form of jamming with other band members, and can help build confidence in beginning drummers.
Groove Tracker
Groove Tracker makes it easy to play a number of different practice patterns, which will automatically reflect the speed and strength of your drumming. In addition, you can also freely add your own fills to the basic pattern.
Pad Gate
In Pad Gate training, the pads will only produce a sound when your drumming precisely matches a practice drum pattern.
Part Mute
Part Mute training lets you mute any or all of the drum parts (i.e., hi-hat, snare, kick, tom, and/or cymbal) from an accompanying song and you can also mute the different band instrument parts.
Fast Blast
In a Fast Blast training session, you just play the drums as wildly as you can over a set period of time. More a game than a form of practice, your aim is to get the highest possible score.
Play with Song
The DTX400 comes complete with ten musical practice songs that cover a wide range of genres. They provide a convenient, enjoyable way to practice drumming and you can vary the tempo to suit your ability. You can even add your own MIDI song files into the module via the Musicsoft Downloader.
Kits
As the world's largest musical instrument maker, Yamaha has been building instruments of exceptional quality and value for 125 years. The affordable DTX400 series embodies this principle and offers sound quality that rivals competitor models costing twice as much. By using sounds from their professional DTX900/700/500 models the 400 series drum sounds are superior to anything else in its class.
The kit sounds of the DTX400 are presented in stereo from the position of the player, so that you when you hear it you will feel like you are listening to a real set of drums. In fact, the sounds are actual recordings of real drums, cymbals and percussion that respond to your hitting strength for expressive musical performances. You get the biggest names from throughout the history of drums including Yamaha's most famous acoustic drums.
Your passion for drumming is real. Their passion will take you there - welcome to the tribe.
Maple Custom
Maple is a traditional wood that has been used to make drums for a very long time. This kit features Yamaha Maple Custom snare and toms and their Maple Custom Absolute for the kick. Known for its rich, warm tone and sustain, these drums are loved by professional drummers from all of the world. The cymbal set uses an 18-inch American made Turkish-style crash cymbal, and 14" hi-hats and a 20-inch ride from a popular Canadian cymbal company known for their quick response.
Oak Custom
Yamaha Oak Custom drums sent a shudder through the drum industry. Never before had this hardwood been used in full kits. From the powerful low end that shakes the floors, to full mids and crisp highs that penetrate the mix, insist on the power of oak. This tight and powerful kit will rock your world. It uses a set of Swiss cymbals including an 18-inch crash, 13-inch hi-hats, and 20-inch ride that are popular for their brilliant sound.
Hard Rock
Big, booming, and brutal - this kit has incredible projection. Using modern studio techniques with a wide open drum tuning gives this kit a huge sound for today's hard rock and heavy metal. It comes with a 19-inch American china, 14-inch Swiss hi-hats, and a 22-inch Canadian ride. By using a heavier stick to record the sounds you can feel the power of a monster rock drummer. This preset uses the hi-hat controller as a twin kick pedal so you can rock out with double-bass drums.
Vintage
Old-style vintage drums are capable of blending into a variety of music styles and are particularly suited to 70s music. This kit uses a set of classic American-made drums with larger diameters for a "King" size tone. To match the vibe of this kit they also include a set of highly Swiss-formula cymbal sounds including a 16-inch crash, 14-inch hi-hats, and 22-inch ride.
Funk
This kit has a dry and focused quality produced from Yamaha's legendary Birch Custom series and features a signature snare sound from one of funk music's power drummers. Birch has the outstanding ability to provide clear mid and low tones, as well as a sharp, solid response in the high frequencies. It comes with 16-inch American crash, 13-inch Swiss hi-hats, and 20-inch Canadian ride cymbal.
Session
Featuring a tight, full drum sound that works well across many different styles of music, the Session kit is made from a Yamaha Oak Custom kick, Maple Custom toms and an extra deep signature snare drum. It comes with 17-inch American crash and Canadian made 13-inch hi-hats and 20-inch ride.
Jazz
The Jazz kit uses smaller sized drums with higher tension on the heads for a tight and bouncy sound compared to the other kits. Not only can it be used for Jazz but the sound will fit into other styles of music that require a high degree of dynamic expression. The cymbals were selected to provide a distinctive jazz ride sound with a full sound in the crash and hi-hat voices.
R&B
No DTX kit would be complete without the electronic sounds of legendary drum machines and modern beat-box samples. This is the best kit to use for 80s House and dance music as well as today's Hip-Hop and R&B genres.
Marching
Featuring a concert bass drum, Yamaha MS-9214 marching snare drum, orchestral cymbals, and high pitched tom-toms. This kit takes its name from the snare drum used but also has the potential for use in genres of music just waiting to be discovered.
Percussion
Rounding out the preset kits is a collection of traditional drum instruments we simply call Percussion. Bongos, congas, cowbells and shakers are featured with a high degree of tonal changes according to your playing dynamics.
Features:
- DTX400 Drum Trigger Module with 297 high-quality sounds
- KU100 kick unit for silent bass drum operation
- Large 10-inch Ride and Crash cymbals and 10-inch Hi-Hat cymbal
- Basic hi-hat controller allows open, closed, pedal and splash hi-hat sounds.
- 7-inch Drum Pads designed for greater playability and durability
- 10 interactive Training Functions with Voice Guidance
- 10 Preset kits (all of which can be overwritten)
- 10 play-along songs (songs can be downloaded via USB)
- Steel Rack provides a solid playing experience
- Upgradeable with DTX-PAD snare (XP80)
Same Day Music is an authorized dealer of
Yamaha
products.