Same Day Music is an
authorized Yamaha dealer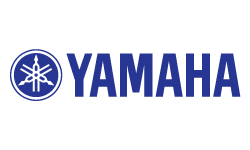 The new HS Series powered monitors were designed to be true studio reference monitors in the tradition of the famous NS10Ms. When choosing your next pair of near field reference monitors, remember it's not just important that they sound good; they have to be an honest reference for your mix. The new HS Series of reference monitors were designed to give you exceptionally flat response so you can really trust what you hear. That means that mixes that sound good on Yamaha HS speakers will sound good on anything. In fact, that's the ultimate test of a reference monitor. Even better than that, HS series speakers not only sound good, they look great, too.
The HS Series is a two-way, internally powered speaker system designed to provide affordable, high quality reference monitoring for all types of recording and multimedia applications -- home studios, computer-based music production, gaming systems, keyboards rigs and personal computer systems. All products are sold and packaged individually, making it easy to build flexible monitor setups and 5.1 systems.
The 120-watt HS80M (8-in. cone and 1-in. dome tweeter) is housed in a bass reflex-type cabinet, and reproduces surprisingly tight low end and smooth, high frequency response to beyond 20 kHz. Inputs include a balanced XLR and 1/4-in. phone jack. In addition to master level controls, each speaker has trim switches that allow you to custom-tailor low, mid and high frequency response for different applications.
HS Series cabinets look as great as they sound. Enclosures are constructed of high-quality MDF material and a multiple layer finish that minimizes resonance. Design elements include a black finish and lighted Yamaha tuning fork logo. White polypropylene woofer cones recall the look of the classic Yamaha NS10M, and include low-damping rubber surrounds and full magnetic shielding.
Features
- 2-way bass-reflex bi-amplified near-field studio monitor
- 8" cone woofer and 1" dome high-frequency unit
- 42Hz - 20kHz frequency response.
- 120 watts dynamic bi-amplified power.
- XLR and TRS phone jack inputs accept balanced or unbalanced signals.
- Level control facilitates precise overall system level matching.
- MID EQ, ROOM CONTROL, and HIGH TRIM response control switches.
- LOW CUT switch.
- Full magnetic shielding
Same Day Music is an authorized dealer of
Yamaha
products.
Exceptionally broad, flat frequency response with a familiar look@Low, mid, and high trim switches@8" white polypropylene woofer, 1" dome tweeter@Biamped with 120 watts total@XLR and 1/4" inputs
Same Day Music is an authorized dealer of
Yamaha
products.