Same Day Music is an
authorized Yamaha dealer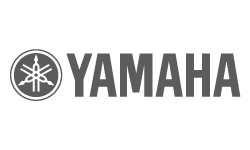 Much of the work in putting together a high-performance sound system involves amplifier and speaker selection and setup. Here are a pair of solutions that can take you directly to great sound without the usual complications. The Yamaha MSR400 powered speaker can be used alone or in combination with the MSR800W powered subwoofer to assemble sound reinforcement systems from modest to massive. They look great, too. So good, in fact, that they can be used as-is in many permanent installations without requiring any cosmetic cover-up. And, of course, they're more than rugged enough for demanding tour applications as well.
Ready for the Road
Whether for use on the road or in permanent installations, powered speakers offer numerous advantages over their separate counterparts. The most obvious is that you don't need separate external amplifiers or the extra connections required -- you can plug your mixer's outputs directly into the speaker inputs. In a modest-size system this alone can eliminate an entire rack of amplifiers. But there are sonic advantages as well. Optimum matching of amplifiers and speakers involves much more than simple impedance figures, and can be a formidable engineering task given the vast number of choices available. In the Yamaha MSR400 and MSR800W the internal amplifiers have been ideally mated to their respective speakers in every way possible, delivering reproduction quality that only such stringent matching can achieve.
Perfect for the Yamaha MSR400
The Yamaha MSR800W powered subwoofer is the perfect companion for the MSR400, extending the low end and completing the musical spectrum for maximum punch and impact. The high-quality birch plywood bass-reflex cabinet houses a 15" cone woofer powered by an ultra-efficient burst 800 watts amplifier, a configuration that can deliver the elusive 40 Hz through 120 Hz frequency range with precision and authority. Two balanced XLR connectors are provided for connection to the source, and that same signal can be directly passed on to the main speakers via a pair of XLR "thru" outputs. Alternatively, the main speakers can be fed by the MSR800W's dual "high pass" outputs, high-pass filtered at 80 Hz through 100 Hz, depending on the setting of the cutoff frequency control, with a steep 18 dB/octave cutoff slope.
Same Day Music is an authorized dealer of
Yamaha
products.
- Type: powered subwoofer
- Overall frequency response: 40-120 Hz
- Maximum SPL: 122 dB (1 m)
- Dimension (W x H x D): 23-5/8 x 20-5/8 x 23-1/4 in. (600 x 521 x 590 mm)
- Weight: 45kg (99.1lbs)
Speaker section:
- Components: 15 in. cone
- Enclosure: bass-reflex type
- Material: birch plywood
- Finish: black sprayed
Amp section:
- Output power: 500W at 100Hz. THD =1%, RL = 8; burst power: 800W
- Input sensitivity/impedance: +4dB/30k
- Input connectors: XLR balanced (A&B)
- Output sensitivity/impedance: +4dB/150
- Output connectors: input (ch-A & B): XLR-3-31 (balanced); thru out (ch-A & B): XLR-3-32 (balanced); high pass out (ch-A & B): XLR-3-32 (balanced) (100Hz, 18dB/oct, +4dB)
- Controls: master level control, cutoff freq. control: 80-100Hz (variable), phase switch: (norm/rev), power switch: on/off
Other:
- Power on: green LED, clipping: red LED
- Power requirement: U/C: AC120V 60Hz
- Power consumption: 200W
Same Day Music is an authorized dealer of
Yamaha
products.