Same Day Music is an
authorized Evans dealer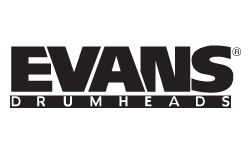 EMAD -- Externally Mounted Adjustable Damping Bass Drumhead
The EMAD comes with 2 dampening rings, each of which affects the head's sound and pedal response. This external system not only maximizes natural attack characteristics and offers tremendous dynamic range (even at low dynamic levels where other damping systems fall short), it also allows quick, easy adjustments -- without having to remove the head from the drum. This unique feature is extremely valuable, especially during recording sessions.
Configuration: Clear, plastic damping sleeve on external side holds 1/2-inch thick foam damping rings (included -- choice of 1/2-inch or 1-1/2-inch wide)
Thickness: Single Ply (10 mil)
Sound: Aggressive attack, moderately or extremely focused (player's choice)
Resonance: Warm, tremendous low end
Application: General use, all applications
About Evans' Drumheads
Bob Beals thinks back over the nearly 40-year history of Evans drumheads to a time in the early 60's. "We were asked to build a drum for the Rose Bowl parade, not just the heads, but the entire drum," he says. "I went and measured the train car they were going to ship it in and it came to seven feet. So we built a seven-foot shell and the heads, and there was this enormous drum in the parade that took four people to play it.
The McDonalds Marching Band liked it, so they bought it and asked me to get it to New York for Macy's Thanksgiving Parade. No one could ship it in time, so I drove from Kansas to New York with the drum in a trailer. That was some trip."
The "Boot Hill Boomer," as the drum was called, became famous. But the company that manufactured it, and also developed some of the drumhead industry's most important technological accomplishments, has remained decidedly low-key.
When Evans began manufacturing in 1958, they developed a head that was an immediate success: the All-Weather Drumhead. At a time when plastic heads were still looked upon with some suspicion, Evans' All-Weather heads proved that heads made of polyester could rival the sound quality of those made of calfskin. And since the plastic heads could be played in any weather conditions, they had an advantage over the older calfskin heads, which were impossible to play when wet.
"We would demonstrate the All-Weather heads to people by pouring water on them, and then playing them and standing on them to show what they could take," says Beals, former President of Evans. "People were amazed. Eventually, we began to lightly sandblast them to better simulate the feel and response of calf skin."
Ultimately, a coating process replaced the sandblasting. The coated heads better caught brushes, like the pores of calfskin heads, to create a sound similar to the skin heads.
As the years passed, Evans would quietly become a technological leader in the business. They would introduce "sparkle heads," which led, in 1968, to the very first clear, or "glass" heads. And in the early 1970's, they invented Hydraulic drumheads.
The Hydraulic heads were unique in the industry: two-plies of drumhead film with a thin layer of oil between the plies. The result was a head that reduced resonance and emphasized a drum's lower overtones. These naturally muffled heads took off instantly. For over fifteen years, Hydraulic heads were half of the company's production, and they remain one of Evans' most popular lines to this day.
In the1980's, Evans recognized a need for better hoops. "The fiberglass hoops were flexible," Beals says, "and they would conform to the shape of irregularly formed drum shells. But today's drums are made with much more accuracy, and the fiberglass wouldn't work well, if it worked at all."
Beals spent 2 years in research, and designed a hoop that fit drum shells with perfection, eliminated the flaws of earlier hoops, and gave the heads a brighter, more resonant sound. They also had another revolutionary aspect: they utilized CAD/CAM (computer aided design/computer aided manufacture) technology. The hoops were introduced in 1988, and were far superior to any other available hoops.
Then, in 1990, came the biggest advancement of all: the Genera line and the EQ system. It was in that year that Beals was introduced to Bob Gatzen by Evans Performing Artist Peter Erskine. Gatzen, a 25-year veteran of drum research, development, and design, took to the idea of developing drumheads for Evans immediately. His aim was to produce heads that would resonate more, import subtle tone and dampening, increase the dynamic range of the drum, and, perhaps most important, would bring out the character of each drum.
The EQ1 system was crafted first, and employed two innovative concepts: the floating muffle ring and dry-venting. The floating ring, which was not physically attached to the head, but rather "floated" on its surface, applied muffling pressure without affecting the drumhead's natural wear pattern. The dry-venting consisted of a series of small holes around the head's outer edge, which provided a drier sound without dulling attack. The EQ2 system (double-plied with a muffle ring and dry-vents) followed, and the EQ3 (double-plied with muffle ring) rounded out the EQ batter heads.
Three resonant heads have also been developed for the EQ system. All are single-ply and bear muffle rings, with the first incorporating dry-vents, the second dry-vents and an attack grill (for external mic'ing) and the third a 6 in. offset vent hole (for internal mic'ing). The EQ system is completed with an inventive, internal muffling pad, which bounces away from the head and returns, providing each head with a unique attack and preserving drum character.
A test of the EQ systems proves how versatile they are. The heads offer an assortment of tones, from a bass sound with a punchy attack to a boomy, open bass sound, depending on the placement of the EQ Pad, which functions like a natural noise gate.
Genera snare batter heads were a natural next step for Evans. The snares employ the same muffle ring as their EQ predecessors, but under testing they provide a focused snare tone without sounding dead. Players who tend to go hard on drumheads will find that the Snare Side 200 heads hold up well, but the 300s go best with all the snare batters. Genera Snares also prove excellent for recording.
The Genera tom-toms are quite distinctive. "Genera heads have a characteristic sound, feel, and projection that other heads lack," says famed drum clinician Rick Latham. And in the words of Bright, "They come right out at you and blow you away." The G1 makes use of a dent-resistant film, and has outstanding durability and stick response for a single-ply head. It provides an open tom sound, and can also be used as a resonant head, which brightens the tone considerably. The G2 is crafted with two-plies of film, giving it even greater durability, and offers a warm tone without getting gummy. The G2 also has a surprisingly wide tuning range for a two-ply head. Genera Resonants warm the tone of both batter heads.
Drummers are impressed with the Genera line and the EQ system, but they've come to expect being impressed. "Evans heads are extremely consistent, and they have a very musical tone," states drummer Adam Nussbaum. "You know when you put a head on that it's going to be cool."
In 1995, Evans was acquired by J. D'Addario & Company, the world's largest manufacturer of musical instrument strings. Since that time, the company has grown in leaps and bounds. Manufacturing techniques have taken Evans heads to the top in terms of durability, sound, and consistency. Dozens more of the world's top drummers have signed on with the company, joining the likes of Dennis Chambers, Peter Erskine, Carter Beauford, Giovanni Hidalgo, Horacio "El Negro" Hernandez, Alex Acuna, and hundreds of others.
Evans began producing an innovative conga head in 1999, and in 2000 unveiled the remarkable MX Marching heads, bringing Evans heads to even more markets in need of consistent, quality drumheads and accessories.
More big plans are in the works, and Evans sales have climbed so dramatically, the company has expanded into its own building, across the street from D'Addario's facilities in Farmingdale, New York.
One thing is certain. With Evans products, there's never a shortage of innovations.
Same Day Music is an authorized dealer of
Evans
products.