Same Day Music is an
authorized Edward Van Halen dealer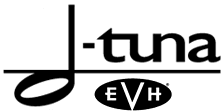 Introducing a revolutionary patented device, called the D-Tuna, that enables players to drop from E to D and back, in an instant. Eddie Van Halen has been using it on his guitars for 5 years. It's simple to use and it works.
"It couldn't be easier to install. You remove the string locking screw from the low E-saddle on the bridge and replace it with one of the 2 D-Tuna locking screws provided, the spring assembly, and the D-Tuna. And that's just about all there is to it." -- Edward Van Halen
The D-Tuna is made from the highest quality hardened steel. The patented design allows for precise fine-tuning adjustment, is simple to set up, easy to use, and really works!
Each D-Tuna Kit Contains:
- D-Tuna
- Allen wrench
- Spring
- 2 long replacement string locking screws
NOTE: Won't work with low-profile Floyd Rose tremolos
Same Day Music is an authorized dealer of
Edward Van Halen
products.