Same Day Music is an
authorized Radial dealer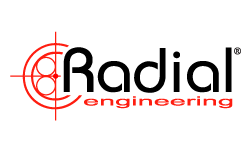 Designed for the purist, the Radial BigShot ABY is an ultra-compact, 100% passive foot switch that provides true bypass ABY amp switching capabilities with A or B toggle and A + B combine functionality. This assures the guitar signal is routed directly to the amp without any buffering, loading or tone altering circuits.
To add versatility, the BigShot ABY has a built-in transformer that can be engaged to eliminate troublesome ground loops. Once on, you can also ensure your two amps are properly in phase using the 180 degree polarity reverse switch.
The compact yet ultra-rugged design makes the BigShot ABY ideal for pedalboard designs where space is always at a premium. Furthermore, because it does not require powering to make it work, it eliminates the need for batteries and space hungry power supplies.
Features:
True bypass ABY amp selector with tuner out
On-board transformer to eliminate ground buzz
180 degree polarity reverse to phase-match amps
Compact and rugged for pedalboards
Plug and play easy to use
2 Amps and Tuner Setup
This setup lets you select between two amplifiers with the right footswitch and combine both amps with the left footswitch. The always-on tuner output adds the convenience of 'anytime' tuning adjustments.
Amp/Tuner Mute Setup
With this setup you can mute your amp for a quick tuneup with a single footpress of the right (A-B toggle) footswitch. In this scenario, the tuner is completely out of the circuit when not needed for the purest guitar tone.
Instrument SelectorSetup
To illustrate the versatility of the ABY, you can use it "backwards" as an instrument selector! Switch between the two instruments with the right footswitch.
BigShot ABY Development
The never ending quest for great guitar tone drives the purest to extremes. One amp for clean -- one amp for distortion. But combining amps is not always simple. Often, when 2 amps are connected together, differing ground references can cause slight buzz to extreme noise that can be so bad that they are unusable.
Products such as the popular Radial Switchbone AB-Y switcher provide elegant solutions by introducing a buffer into the signal path and the use of photocell switching, but alas, they do so at a premium price. For many, these extras are not needed.
Another consideration in a switcher pedal is size and practicality in actual use on a pedalboard. The ABY is designed to be as small as possible and with the connectors and cables located at the front of the unit, where they will have the least impact on valuable stage space used.
The Radial BigShot ABY answers the need for a compact, simple and effective amp switcher with "straight wire" true-bypass connectivity for the purist, with the option to switch a noise eliminating transformer into the circuit should ground loop induced hum and buzz be a problem.
BigShot ABY Audio Path
The BigShot ABY begins with the instrument input. Next is a common output (tuner-out) that is always on. This would be typically used for a tuner.
Next in line are the 2 outputs A and B. These connect to your 2 amplifiers. Depressing the Toggle switch allows you to toggle between the A or B amps whereby one could be set for rhythm while the other could be set for lead. Depressing the Both would of course activate both amps by splitting the signal.
In either case, the audio signal is 100% true bypass meaning that there is not preamp of buffer in the circuit to get in between your guitar and your amplifier. For the purist, this is bliss.
Using the BigShot ABY
Radial opted to make the BigShot ABY completely passive so that no powering would be required. This trade off eliminates the use of lights and need for batteries or power supply. Instead, they added 2 functions that are not found on any other low cost AB-Y switchers: transformer isolation and 180 degrees polarity reverse.
When combining 2 amps together, often times, noise caused by ground loops can enter the signal path. The buzz and hum can often be so loud that it makes playing impossible. For these instances, the BigShot is equipped with an isolation transformer that can be switched in. Transformers are wonderful devices that allow the audio signal to pass while eliminating hum and buzz caused by ground loops. Once engaged, the transformer also lets you set both amps "in phase" a feature that once again is unique to the BigShot.
Keep in mind that the trade off here is tone. When you engage the transformer, even though you are still passive, you are no longer technically "true bypass." This means that the tone going through the transformer will be affected unless you place a buffer in front of it. Many pedals incorporate buffers into the signal path. This can be good or bad, depending on the quality of the buffer. The Radial BigShot PB1 combination power booster/buffer is one of the best buffers on the market. With a buffer in front of the BigShot ABY, you can drive your tuner without noise and run longer cables.
The cool thing here is that BigShots are designed to accommodate both camps: true-bypass and buffered to give you the freedom to choose as your needs progress.
Same Day Music is an authorized dealer of
Radial
products.
Circuit Type: Passive true-bypass
Tuner Output: Yes -- always-on tuner out
Transformer: Radial special design 1:1 isolation transformer
Ch-A/B Isolation: Yes -- ISO switch on Output-B
Ground Lift: Yes -- LIFT switch on Output-B
Phase Reversal: Yes -- 180 degree phase switch on Output-B
Footswitches:
Heavy-duty high-cycle :
A - B -- toggles between A or B
BOTH -- both channels or one
Construction: 14 gauge steel, baked enamel finish
Size: 3.6 in. w x 3.9 in. d x 2 in. h (92 x 99 x 51mm)
Weight: 1.25 lbs. (0.56 kg)
Warranty: Radial 3-year limited warranty
Warning -- Possibility of electrical shock hazard exists. Please read the warnings in the user manual before attempting to connect amplifiers to this device.
Same Day Music is an authorized dealer of
Radial
products.
Shipping Weights and Dimensions

Shipping Weight: 2 lbs
Shipping Dimensions: 7 x 4 x 3 in