Same Day Music is an
authorized Fishman dealer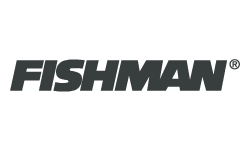 The Fishman FT-2 digital chromatic tuner provides quick and accurate tuning for most instruments with a simple flip. Clip it on, flip up the display and the FT-2 powers-on. Flip it back down when you're done tuning to shut if off. The large, high-contrast, backlit display is easy to read and shows pitch with+/-1 cent accuracy via tuning "needles" and a multi-color backlight. It is also incredibly lightweight -- weighing only 21 grams -- so it won't affect your instrument's tone. When flipped down to the off position, it's incredibly low-profile, so you can leave it place while you're playing and the soft clip won't harm many finishes.
Features:
- Flip it up to turn it on, flip it down to turn it off
- Fully chromatic, automatically displays the note
- Large, easy to read LCD display lights green when in-tune, red for sharp, amber for flat
- Meter style "needle" display is accurate to 1 cent
- Built-in clip-on sensor
- Automatic power save shuts it off after 5 minutes
- Includes one 2032 coin battery
Same Day Music is an authorized dealer of
Fishman
products.
- ACC-TUN-FT2 FT-2 Digital Tuner
- TUNING SOURCE Clip-on sensor
- TUNING MODES Chromatic 12-note
- PITCH RANGE A4 = 440Hz
- DETECTION RANGE A0 (27.5 Hz)-C8 (4,186 Hz)
- BATTERY 2032 coin battery (incl.)
- DIMENSIONS 1.9in. W x 1.7in. D x 1.1in. H
- 48mm W x 44m D x 27mm H
- WEIGHT 0.7 oz; (21g)
Same Day Music is an authorized dealer of
Fishman
products.
Shipping Weights and Dimensions

Shipping Weight: 1 lbs
Shipping Dimensions: 4 x 2 x 1 in