Same Day Music is an
authorized PreSonus dealer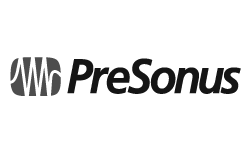 The first time you hear the PreSonus Sceptre S6 CoActual 2-way studio monitor, you'll discover fine nuances of your music that can't be reproduced by conventional designs. The Sceptre's panoramic soundstage, fine detail, and stunning dynamics will astonish you. This exceptional performance is the result of an advanced coaxial design that works integrally with a 32-bit processor running Fulcrum Acoustic's TQ Temporal Equalization Technology.
The Royal Sceptre
The sceptre is the age-old symbol of royal authority. The Sceptre S6 studio monitor provides sound quality and control worthy of the highest levels of aristocracy -- but they're priced for the bourgeois project-studio owner.
The system is biamplified: Each transducer is powered by a 90W RMS, Class D power amp with an internal heat sink. Each Sceptre has its own internal power supply with IEC connector and a power switch with on/off LED. To this package of custom transducers, powerful DSP running custom software, and first-rate power amplification, add a rich set of acoustic adjustments and full speaker protection, and you have an affordable close-field monitoring standard for project studios and commercial facilities.
Coaxial Done Right with TQ
Each Sceptre monitor contains a DSP chip that enables the use of Fulcrum Acoustic's TQ algorithms. The processor is used to manage horn reflection, linear time and amplitude anomalies correction, performance contouring, and dynamic and excursion limiting. The result is coaxial speakers that perform far better than all but the most expensive studio monitors.
No driver is perfect, nor can a driver be made perfect with hardware alone; there are always compromises in physical systems. To overcome these driver compromises, many speaker manufacturers apply DSP in the form of a combination of multiband EQs but the processing is more or less an afterthought -- it's not accounted for in the design of the transducer. This sorta works -- more or less. A few high-end loudspeaker companies have developed sophisticated solutions with active DSP that is co-designed with the speaker, but these are expensive solutions. So instead of taking the crude, old-skool approach, PreSonus partnered with Fulcrum Acoustic and licensed its high-end TQ Temporal Equalization, which, up until now, could only be found in very high-end speaker systems.
You Wield the Sceptre
In addition to making possible the Sceptre's coaxial design, the monitor's onboard DSP provides user-adjustable contour features for optimizing the monitors for your mixing space. This enables full integration into any studio environment. A four-position Acoustic Space switch controls a second-order shelving filter centered at 100 Hz, with four attenuation settings (no attenuation, -1.5 dB, -3 dB, and -6 dB) so that you can account for the boundary bass boost that occurs when the monitor is placed near a wall or corner. If you don't want to roll off those lows, set it to 0 dB.
You also can adjust the Sceptre's overall sound and response using its performance controls. A sensitivity control that ranges from +4 dBu to -10 dBV helps you match the Sceptres to your mixer's outputs. The High-Frequency Driver Adjust switch adjusts the tweeter's overall level to linear (0 dB), +1 dB, -1.5 dB, or -4 dB. This lets you control the balance between the tweeter's output and that of the mid/low driver. The High Pass switch rolls off the low frequencies below the specified frequency (60, 80, or 100 Hz) at a slope of -24 dB/octave. This control is important if you are using a subwoofer in conjunction with the Sceptre S6 monitor; in that case, set it to the same frequency as the crossover to the subwoofer. If you're not using a subwoofer, you simply set the control to Flat.
Features:
- CoActual technology combines DSP time-correction and point-source design for symmetrical soundstage and micro-definition imaging
- Unique coaxial transducer integrates 6.5-inch midrange driver and 1-inch (25 mm), horn-loaded HF transducer with Coaxial Speaker Coherence Alignment
- Powerful DSP provides critical Temporal Equalization with multiple FIR filters
- Acoustic-tuning controls: HF Driver Adjust (0 dB, +1 dB, -1.5 dB, -4 dB), Acoustic Space settings (0 dB, -1.5 dB, -3 dB, -6 dB), High-pass filter (Off, 60 Hz, 80 Hz, and 100 Hz, -24 dB/octave slope), Sensitivity (+4 dBu to -10 dBV)
- 180W RMS, Class D biamplification with internal heat sink
- RF shielding, current-output limiting, and over-temperature protection
- Balanced XLR and 1/4-inch TRS line-level inputs with A-taper level control
- Amplifier 'soft start' feature eliminates popping on power-up
- 102 dB maximum continuous SPL
- Internal power supply with IEC connector
- Power switch with on/off LED
Same Day Music is an authorized dealer of
PreSonus
products.
Inputs:
- 1 balanced XLR
- 1 balanced 1/4" TRS
Performance:
- Frequency Response (-3 dB): 52 Hz - 20 kHz
- Frequency Response (-10 dB): 42 Hz - 23 kHz
- Crossover Frequency: 2.2 kHz
- LF Amplifier Power (@ 4 Ohms): 90W
- HF Amplifier Power (@ 4 Ohms): 90W
- Peak SPL (@ 1 meter): 109 dB
- LF Driver: 6.25" glass-reinforced paper
- HF Driver: 1" diaphragm compression driver
- Input Impedance: 10 kOhms
User Controls:
- Volume Range: A-type taper
- HF Control: Flat, +1, -1.5, -4 dB
- Low Cut: Flat, 60, 80 Hz, 100 Hz
- Acoustic Space: Flat, -1.5, -3, -6 dB
Protection:
- RF interference
- Over-current
- Over-voltage
- Over-temperature
- Turn on/off transient
- Subsonic Filter
- External mains fuse
Power:
- 100-120V ~50/60 Hz or 220-240V ~50/60 Hz
Dimensions:
- Width: 9" (230 mm)
- Depth: 10.24" (260 mm)
- Height: 13.2" (335 mm)
- Weight: 18.8 lbs (8.53 kg)
Same Day Music is an authorized dealer of
PreSonus
products.
Shipping Weights and Dimensions

Single Speaker

Shipping Weight: 24 lbs
Shipping Dimensions: 18 x 17 x 14 in

Pair, with Monitor Station + JBL Starter Pack

Shipping Weight: 57 lbs