Same Day Music is an
authorized Vic Firth dealer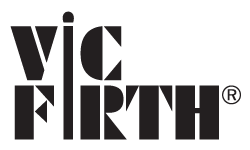 These 7A drumsticks feature a tear drop tip and are perfect for light jazz and combo playing.
Played By:
Cyro Baptista - Beat the Donkey, Supergenerous, Robinson Lubambo and Baptista Trio
Luca Cerardi - Merendine Atomiche
Josh Collazo - Edward Sharpe & The Magnetic Zeros
Tobias Danne - Itchy Poopzkid
Glenn "Man Raw" Frazier Jr. - The Fabulous Rudies/Kiing Bisquit Revue
Freddie Gruber - Independent
Jon Kleinman - Monster Magnet
Bob Moses - Independent
Seth Moutal - Tracy Bonham, The Trapps, Afroskull
Alberto Netto - Alberto Netto Quartet
Fernando Paiva - Fernando Paiva Group
John Piascik - Independent
John "Jabo" Starks - Funkmasters LLP
Stevo Theard - Dave Coz
Ahmir "Questlove" Thompson - The Roots
Frankie 'Knuckles" Walker - The Roots/Late Night with Jimmy Fallon
Jeff "Tain" Watts - Branford Marsalis
Wuv - POD
Charles M. Zak - Independent
Vic Firth American Classic
The American Classic line combines tradition and Vic Firth style. With bold designs for fuller sound, the Classics are turned from select hickory -- a dense wood with little flex for a more pronounced sound. Hickory is also capable of withstanding a great deal of shock, making it highly durable.
The wood tips are deeply back-cut for intensified cymbal response. The nylon tips are similar in size and shape to their wood counterparts, providing enhanced performance and a feel closer to their original wood tip models. Nylon tips are the most durable and brightest sounding on cymbals.
Same Day Music is an authorized dealer of
Vic Firth
products.